Paul W. Marino Gages, Inc.




413 NE Baker Road, Stuart FL 34994 USA


Phone/Text: 313.300.0134 email pwminc@pmargage.com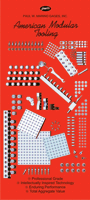 About Us
​
We are dedicated to presenting high quality products to industry while providing reliability and service. Our mission is to supply the technological advances that enable the manufacturing process to work faster, with higher precision, than past practices. We utilize agile methods that recognize global economics and ecological considerations.
Quick Facts
​
Established in 1991, PWM is dedicated to offering the finest quality products and professional services to our customers

Our customer service and sales group is knowledgeable, professional and ready to assist you.

Our design group are specialists in several fields of design and support all typical file formats.

In 2018 PWMG entered into a joint venture with C2 Gauge and Fixture in Kentwood, MI. This new joint venture manufactures American Modular Tooling, designs and builds fixtures and manages logistics for the AMT product line.
Over the years, consistency in service, quality and innovative ideas have proven to be our greatest assets.
Contact Us:
​
Paul W. Marino Gages, Inc.
413 NE Baker Road
Stuart, FL 34994 USA
​
Phone: 313.300.0134
Fax: We have no fax line at this time, please call or email
​
Email:
General Inquires (pwminc @ pmargage.com)
Technical Sales (lmarino @ pmargage.com)
​
* effective June 2018 our old "@covad.net" email addresses are inactive; please update your contact files.
​
​
Products and Services
​
American Modular Tooling: A comprehensive, modular fixturing system for almost all types of work holding. Every element has been carefully designed for maximum efficiency and cross-system compatibility.

Design & Build Services: Complete design via CAD of all types of fixtures as well as assembly of fixtures, specially machined details (nets, check rails, custom pins and more) and coordinate measurement for the certification of fixtures. One fixture or complete, turn-key programs.

CMM Styli & Accessories: High quality CMM styli and accessories designed to fit all major probing systems. Offering over 1,400 standard configurations, custom builds to your specifications are also available.

Measurement & Standards: World standard artifacts and measuring instruments - step gages, sphere plates, ball bars, optical standards, gage bars, gage blocks and more.

Shoppwm: our on-line buying site