Paul W. Marino Gages, Inc.




413 NE Baker Road, Stuart FL 34994 USA


Phone/Text: 313.300.0134 email pwminc@pmargage.com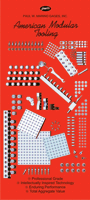 SuPAR Augmented Reality Interactive Inspection Software
Innovative Visual Quality Inspection Tool to Accomplish Three Main Tasks:
​
Inspection: Visual inspection with augmented reality technology provides speed, efficiency and reliability.

Nominal CAD overlap in AR

Nominal edge overlap in AR

Existing edge image processing in AR

Virtual drawing tool on component in AR

Reporting: Digital reports in PDF, Excel and 3D format are prepared within seconds.​

Note points in AR

Dock photos to note points

Automated creation of Excel comment lists

Fast checkpoints in AR

Predefined symbols and texts

Communication: Employees and business partners communicate fast and easily via online and offline platform connections.​

Microsoft TEAMS connection

Digital twin in AR (hologram)

3D viewer for the digital twin

Interface to database – communication notes
SuPAR 2 in 1 Software
SuPAR consists of 2 pieces of software: SuPAR Composer and SuPAR APP.
​
SuPAR Composer is used to prepare CAD data for augmented reality and to create the inspection points. It is possible to inspect complex assemblies, as well as perform partial or regional inspection of parts with SuPAR Composer. In addition, inspection processes, such as physical-digital mock-up and three-dimensional viewing of inspection reports are realized with SuPAR Composer.

SuPAR App visualizes the data by matching the prepared CAD data and the physical part thanks to AR technology. Interactive inspection is realized by augmented reality tracking and real-time image comparison. Missing, excess or incorrect positions are quickly detected by SuPAR App. Any detected problems are recorded with photos and comments. In addition, SuPAR App can be used as an assembly guide thanks to its physical-digital mock-up feature. The inspection results are reported in PDF, Excel or 3D formats within seconds.