Paul W. Marino Gages, Inc.




413 NE Baker Road, Stuart FL 34994 USA


Phone/Text: 313.300.0134 email pwminc@pmargage.com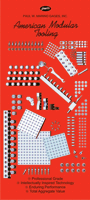 Measurement and Standards®: World Standard Artifacts and Measuring Instruments
PWMs step gages are rigorously calibrated certification masters. This threaded steel gage bar is ideal for CMMs, boring or milling machines and other cartesian devices
Step gages are available in standard lengths of 420, 620, 1010, 1540 or 2020mm.

Manufactured of special steel, aged to provide dimensional stability

Gage blocks are available in ceramic

Ideal for horizontal, vertical quill and "under-the-table" type machines.
New gage bar certification masters for users of small CMMs
Ceramic spheres are the basis of this extremely stable certification master. Sphere plates conform to the B89 specification and provide the interim steps inside the measurement envelope.
The main plate is a distortion-free neutral plane insuring the position between spheres and preventing variations of certified values.

Sphere plate design permits probing access from both sides of the plate.

Manufactured to high dimensional accuracy of <0.3µm and a hardness of >1650HV.
A non-demountable sphere beam artifact for monitoring the accuracy of medium-sized Coordinate Measuring Machines (CMMs).
An ideal gage for calibrating large volume measuring devices. It is portable, highly accurate and easy to assemble. Available in lengths of 3 or 5 meters (longer on request).
A quick monitoring system for Coordinate Measuring Machines.
A scale system for optical coordinate measuring systems.
Standards for monitoring optical and tactile coordinate measuring instruments.
Gage Blocks and Accessories
High quality gage blocks made of steel, ceramic or carbide provide a high degree of stability and wear resistance. Accessories expand the application possibilities offered by gage blocks.
Available in steel, ceramic or carbide

Aged to eliminate internal stress

Accessories include: stands, holders, jaws, points, handles, optical flats, service kits and more.
Applicable SIC Codes: 3423, 3545, 5049, 5084
Applicable NAICS Codes: 332212, 333515, 423490, 423830