Paul W. Marino Gages, Inc.




413 NE Baker Road, Stuart FL 34994 USA


Phone/Text: 313.300.0134 email pwminc@pmargage.com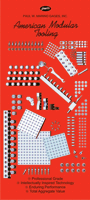 A quick monitoring system for CMMs (coordinate measuring machines
Range of Application
​
The Q3 Ball Cube provides 28 distances provide significant results on the measuring accuracy of volumetric measurements, especially when using multi-axis or swivel stylus probe systems.

Fast measuring cycles allow monitoring with little impact on the availability of the CMM.

If the Ball Cube is used as a monitoring standard, a calibration is unnecessary. In this case the results from rotational monitoring measurements are referred to the initial measurement of the cube after carrying out a complete calibration of the CMM.

Use of the Q3 Ball Cube can reduce the costs of inspection equipment monitoring significantly. Re-calibration intervals for CMMs can be clearly extended as long as the ball cube inspection does not show any unacceptable deviations.
Design Features
​
Extremely rigid carbon fiber tube construction with stainless steel angle joints for short- and long-term stability.

The specially manufactured carbon fiber tubes are free from any variation in length caused by humidity and provide maximum stiffness with low weight.

The combination of carbon fiber tubes and stainless steel angle joints guarantees a low coefficient of thermal expansion.

The probing elements are highly precise ceramic balls of AI2O3.

Low weight and easy handling

Evaluation software is also available.
Applicable SIC Codes: 3423, 3545, 5049, 5084
Applicable NAICS Codes: 332212, 333515, 423490, 423830