Paul W. Marino Gages, Inc.




413 NE Baker Road, Stuart FL 34994 USA


Phone/Text: 313.300.0134 email pwminc@pmargage.com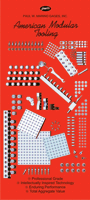 Master artifact for acceptance testing and interval monitoring of optical measuring instruments.
Features
High short- and long-term stability

Coefficient of thermal expansion is close to 0 (zero)

Easy handling and low weight

Conforms to VDI/VDE 2634

Can be calibrated to DAkkS
Construction
​
Stable two-part scale body made of CFC tube which is non-sensitive to humidity, with screw joint for best repeatability.

Six CFC target holders with 130° openings

10mm diameter precision targets made of glass with chromium layer designed as a blind. Each target has 1.25mm sight ring surrounded by a hairline of 0.25mm thickness.

15 individual measuring distances - up to 2588mm long - on a single scale

Highest rigidity and low weight of high-module carbon fiber

Flexible fastening clips for universal arrangement of scales in the measuring volume
Range of Applications
​
Traceability of measurements performed with photogrammetry or theodolite systems

Calibration of photogrammetry or theodolite systems
Utilizing photogrammetry and theodolite systems brings many advantages to industry, for example mobility, flexible handling and shortened measuring time. However, the absence of an acceptable "calibration artifact" has hindered the application of these systems.
​
The KOBA-optima system meets the demands of monitoring these instruments per VDI/VDE guideline 2634 (Acceptance and monitoring of optical 3D-sensor systems). KOBA-optima utilizes the principle of a scale that can be probed optically. A suitable calibration procedure and the necessary calibration structure for the scale were also developed.
​
The KOBA-optima scale system was tested for applicability to the VDI/VDE guidelines in 2000 using a comprehensive study that involved the PTB (Physicalish- Technische Bundesanstalt) and various manufacturers and users of photogrammetry and theodolite systems. Results of the study verified the Optima scale systems applicability to the VDI/VDE requirements and also that the system fulfills the demand for an optical physical body traceable to the physical value "length."
​
The 2700mm cylindrical scale body is made of carbon composite material (CFK) and may be separated at the center for transport. The joining ends of the scale body are lapped for consistent, accurate setup. There are six targets located on the neutral fiber of the body; each target has a viewing entry access angle of 130°. The clear glass area of each target has a diameter of 10mm. In the center of each of these clear areas is a site ring used for sighting the theodolite system; each site ring has an internal diameter of 1.25mm surrounded by a hairline of 0.25mm thickness.
​
Targets that use retro foil as a background guarantee that sufficient light is reflected even if the angle is not favorable for picture taking. Targets that use a white background or background illumination are optionally available.
​
The KOBA-optima optical scale system provides 15 possible measuring distances per scale with six targets. The combination of measuring distances and scale positioning guarantees a statistically safe measurement. Scales are calibrated on a measuring machine specially modified with a CCD camera to register the targets and with two distance-measuring laser systems for length measurement. The center position of the measuring mark is determined by using an elliptical trace-out program.
​
Certification is provided by the DAkkS (German calibration service). The Measurement Uncertainty of calibrated values is 5µm which is significantly below that provided by photogrammetry and theodolite systems. As a result, the certifications performed by the KOBA-optima system are suitable as the SI basic unit "length" according to the demands of the VDI/VDE standard.
​
That patented KOBA-optima optical scale system has been designed to be a standardized artifact, traceable to a national standard. It is suitable as a calibration standard for optical measuring systems, e.g. acceptance and monitoring inspections. It can also be used as a reference standard for traceability of the particular measuring task to the "SI basic unit length" specification as defined by the KOBA-optima optical scale system as a physical body.
​
The scales can be easily fixed to tripods, on carrying handles on the object to be measured or onto the object itself by means of fastening clips.
Applicable SIC Codes: 3423, 3545, 5049, 5084
Applicable NAICS Codes: 332212, 333515, 423490, 423830