Paul W. Marino Gages, Inc.




413 NE Baker Road, Stuart FL 34994 USA


Phone/Text: 313.300.0134 email pwminc@pmargage.com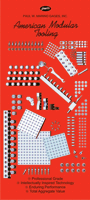 The Sphere Beam® is a modular ball bar for monitoring and calibrating medium-sized CMMs.
​
Ceramic spheres are the probing elements and represent the long-term stable measuring length and are fixed in a specially designed support. Nominal lengths of 1500mm up to 2500mm are available; division and sphere diameters are per the customer's requirements.
​
Positioning the Sphere Beam within the volume of the CMM is accomplished using either two light tripods made of carbon fiber (CFC) or a torsion-proof base on which a swivel arm is mounted.
Positioning in the Volume of the CMM
There are two options for positioning the Sphere Beam in the volume of the CMM. Using two light CFC tripods achieves the best possible portability at the lowest weight. The Sphere Beam can be aligned horizontally up to 60° with reference to the horizontal position while on the tripods.
​
Alternatively, the Sphere Beam can be mounted on a torsion and bend-proof base and swivel arm with angle adjustments. This option permits a swivel range of 90°, i.e., the alignment of the measuring line can be varied from horizontal to vertical position allowing axially parallel measurements.
​
The ceramic probing spheres are fixed mechanically in a tapered seat in such a way that adhesive cannot alter the sphere position in a negative way. 30mm diameter spheres are standard but other sizes are available.
Construction Features
​
The carrying body consists of a modular CFC-integral profile made the highest possible fiber content. This CFC profile is extremely rigid and stable in size because of its construction methods and product engineering. The carrying body is equipped with a water/vapor-proof coating to avoid changes in size caused by humidity.
​
Technical Details
Dimensional Range: 1500mm up to 2500

Division: every 100mm is standard (custom divisions are possible)

Carrying Body: UHM-CFC-integral profile, 60x60mm

Coefficient of linear thermal expansion approx. -0.5 x 10^-6 K_-1

Weight approx. 2 kgs/m, but dependant on probing elements

Tripods: CFC-light tripods with swivel head, approx. 3kg/piece
Applicable SIC Codes: 3423, 3545, 5049, 5084
Applicable NAICS Codes: 332212, 333515, 423490, 423830